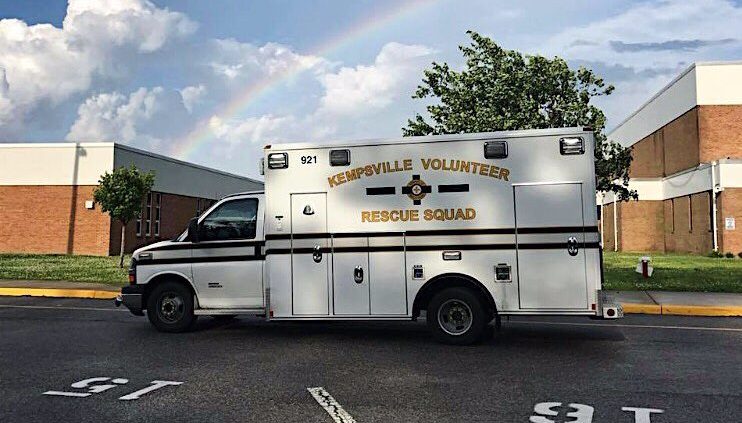 We're here because Life Happens
We dedicate our efforts to saving lives, delivering quality emergency medical services and providing community education and safety.
We are a public charity (501.C.3) that maintains:
A large all-volunteer force of Emergency Medical Technicians (basic and advanced levels) and Paramedics;
A fleet of mobile intensive care ambulances
We respond to 9-1-1 and other calls involving illnesses and injuries of all natures and magnitudes. We provide skilled, compassionate medical care, safe and rapid ambulance transportation, and quick and effective rescue services. We also provide support services at the scenes of extended and/or laborious police, fire, and rescue incidents. We are on call 24 hours per day, every day.
---
We're a component of the VB Rescue system — one of several all-volunteer rescue squads that cooperate to serve the City of Virginia Beach. Virginia Beach is the largest city in the Unites States with an volunteer-based EMS system.
We are dispatched by the Virginia Beach Emergency Operations (9-1-1) Center. We work closely with the Virginia Beach Fire Department to make sure that our clients receive quick, definitive care, even when our units are distant or busy on other calls.
---
Many of our members teach emergency medical, rescue, and safety classes locally and nationally. We provide demonstrations, standbys, and non-emergency transports on a pre-arranged basis, and our squad serves as an excellent platform for leadership development.
---
The squad receives the vast majority of its income in the form of donations from the citizens and businesses that it serves. Less significant income includes occasional grants. KVRS has never charged its clients for services rendered.
---
Donations are spent, in descending order, on capital outlays (new vehicles and field equipment), vehicle maintenance and repair, consumable medical supplies and oxygen, fund drive and recruitment campaigns, repair and maintenance of field equipment, uniforms, and training. (Most training is provided by the City of Virginia Beach.) KVRS does not pay wages or salaries to any of its members.
---
Administratively, the squad is self-governed. Its Board of Directors and corporate officers are all active members of KVRS.
Operationally, the squad is governed by a Captain chosen from amongst its active members. The Captain answers to a chain of command that culminates with the Director of the Virginia Beach Department of Emergency Medical Services.